Hilsoft, Inc. is honored to have been recognized by APAC CIO Outlook as one of the "Top 10 Most Promising ERP solution providers in 2017" The only proud Filipino company to make it In the list.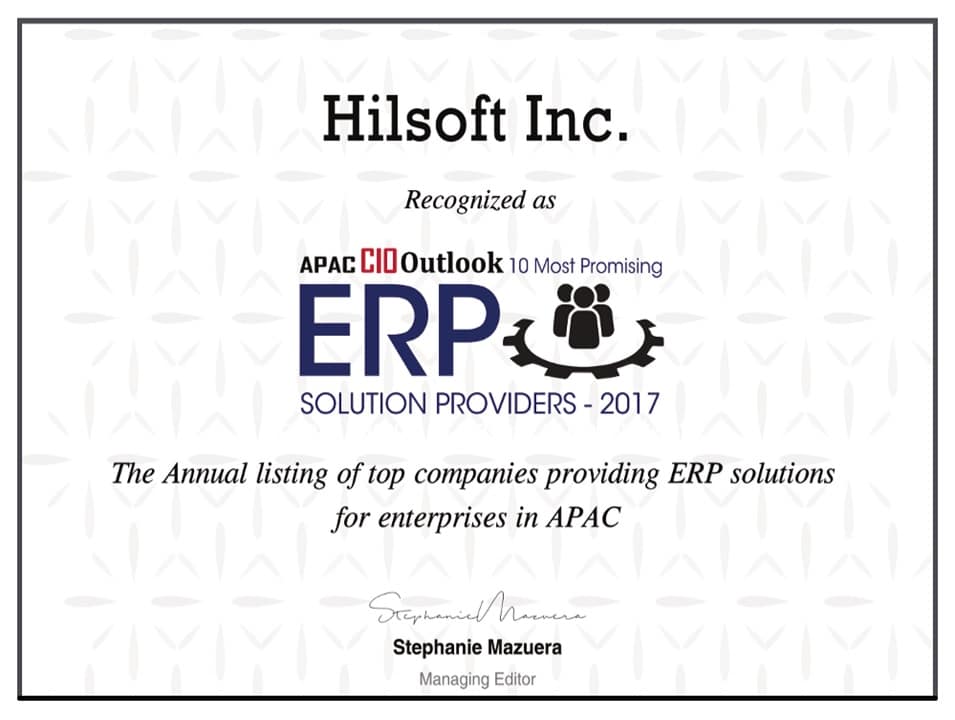 APAC CIO OUTLOOK has named Hilsoft, Inc. as one of the top 10 companies providing ERP solutions for enterprises in the Asia Pacific for 2017. It is the only company from the Philippines that have made it to the list. Surely, this honor is another feather on Hilsoft's cap.
Print magazine APAC CIO Outlook aims to provide a platform for CIOs, CTOs, and other senior-level IT buyers and decision makers, along with CXO's of solution providers, to share their experiences, wisdom, and advice with the enterprise IT community of APAC countries. Their purpose is to encourage a "learn from our peers approach" in the Asia Pacific region. The magazine is published from the hub of technology, Silicon Valley, USA, with sales office in Hong Kong and editorial presence in all major APAC countries.
This noble recognition is a step closer to bringing the Philippines a place in the global IT market through Hilsoft's World Class software solutions.
Links to the article:
https://erp.apacciooutlook.com/vendor/10special91
https://erp.apacciooutlook.com/vendor/article91/hilsoft